Wayanad – The Delectable Slice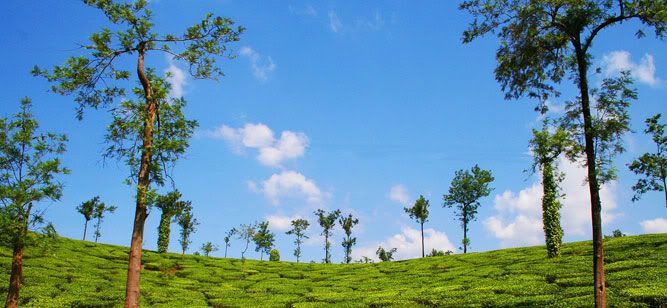 Kerala is truly God's own country when it comes to the beauty of the land. Lush green paddy fields, pristine beaches, awe inspiring backwater vistas, loffy mist clad peaks, plantation views, emerald forests. The list is seemingly endless. Mother Nature has been bountiful with her largess when it came to Kerala.
But, when talking about the scenic charms of  Kerala, one district somehow seems to have a very special place in my heart – Wayanad. Other place may have great natural beauty but at times this gets marred by unsightly constructed, landfills, clear felling of trees or even barbage heaps. But Wayanad has a mystical serenity and old world charm which is unique. Even the major towns of Wayanad are not yet affected by the construction of appalling concrete edifices Yet, it is with some shock that I saw some hoarding near Kalpetta and Sulthan Bathery soliciting buyers to purchase upcoming high-rise apartments.
The beauty of Wayanad is that it is so restful on the eye. The undulating tea plantation with the grace Silver Oak trees Standing sentinel over the tea bushes, the myriad streams and water ways that are still mainly unpolluted and crystal clear, the green paddy fields stretching to the horizon, the drive through awesome forests with thick bamboo groves on either side of the road with the imminent expectation of sighting a herd of elephants around the corner, the unbelievably large herds of deer grazing tranquilly by the roadside and so on and so forth.
Chembra Peak is a very special experience. The initial trek through the Chembra Tea Estate up to the Forest Department itself is fantastic. The view from the watch tower is great and one gets a bird's eye view of Kalpetta town and its environs. Start climbing the peak and the vistas keep unfolding one by one. On achieving the peak, the 360 view is absolutely beyond description. You overlook almost the entire Wayanad district, Calicut and Tamilnadu  that borders Wayanad beyond Rip on.  The view of the lake that is nestled on the mountain slope and the valley beyond it defies description.
Likewise, a trek through the area near the catchments surrounding Banasura Sagar Dam, the precincts of Kuruva Dweep, Edakkal Cave experience, Tirunelli visit, Soochippara and Meenmutty with an experienced guide can expose you to some truly great wildlife encounters.
Finally another specialty of Wayanad is its people. The tribals of Wayanad are such gentle loving souls and the settlers are very hospitable and helpful. Wayanad needs development that is sustainable and that which does not affect the uniqueness of this delightful slice of  God's Own Country.

Related posts: