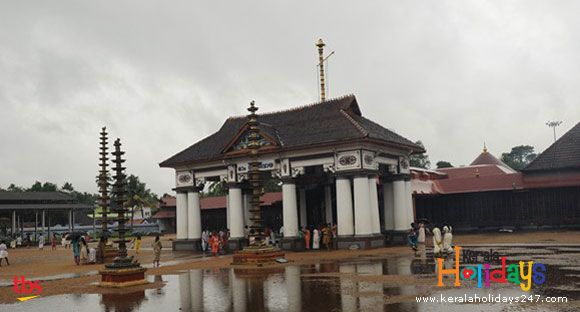 Vaikom Mahadeva Temple is one of the most famous and oldest Siva temples in Kerala. The utsavam in this temple is celebrated for twelve days during the dark lunar fortnight of Vrischikam, (November-December) the Ashtami falling on the last day. During the night on the Ashtami day the deities of the neighbouring temples will be ceremoniously brought in procession to this temple. This is a very colourful and important function.
The kootupuja performed during the festival, at the temple deserves special mention. The Arattu in conclusion of the utsava in the Udayanapuram temple, is performed at Vaikom temple. The Arattu is performed at the Arattu tank located at a distance of one mile east of the temple. The Arattu celebration over, both the deities are taken to Vaikom temple, where they are worshipped together. This is what is known as Kootipuja. This puja is performed on the fifth day after Kodiyettu, the hoisting of the temple flag. On the next day after Ashtami, Arattu is performed to the deity in this temple. The Ashtami in the dark lunar fortnight of Kumbhom, is also quite important.
The temple faces the East and the Sreekovil is round in shape roofed with copper sheets and with two chambers. It is believed that the 'Vyaghralayesha' Siva gives His Blessings to the Devotees in three Bhavas or forms in the morning, noon, and evening in this Holy Temple.
The most important prasada of Vaikkathappan is Bhasma –Vibhoothi or Ashes.
Today Vaikom is one of the most revered Shiva shrines in South India. Though Vaikkath Asthami is the the better known festival at the temple, it celebrates many other festivals, some of them unique to the temple.