Vaidyaratnam Oushadhasala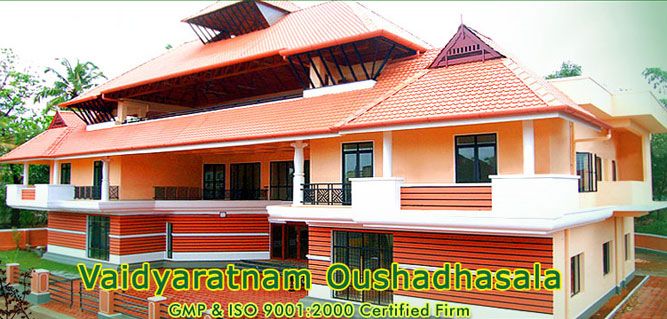 The Vaidyaratnam Oushadhasala is a manufacturing unit to prepare medicine in the uncompromising Ashtavaidya school of thought, at Ollur in Thrissur was founded in 1941 by Ashtavaidyan E.T. Neelakandan Mooss, and has been managed since 1954 by Ashtavaidyan E.T. Narayanan Mooss. Vaidyaratnam Oushadhasala manufactures more than 600 Ayurvedic preparations.
The Vaidyaratnam Oushadhasala and Nursing Home is conceived to be a unique center where the classical concepts of Ayurvedic principles and practices are giving a trial with Vedic zeal and devotion.
In 1955 Ashtavaidyan E.T. Narayanan Mooss established the Vaidyaratnam Nursing Home to wed the time-honoured practices of Ayurveda with modern amenities. The nursing home is a specialized centre of Panchakarma and other traditional therapies, like Pizhichil, Dhara Siorvasthy, Avagaha Sweda, Tharpanam and rejuvenation Therapies. In 1976 Ashtavaidyan E.T. Narayanan Mooss founded the Vaidyaratnam Ayurveda college at Thaikkuttasseri, near Thrissur. The 100 bedded hospital has three exclusive cottages and deluxe room. The hospital has Physiotherapy unit, Clinical lab, Library, Internet facility and a Pharmacy. The hospital offers Panchakarma treatment and specializes in treating certain ailment like Neurological problems, Hemiplegia, Facial Paralysis Geriatric problems, Psoriasis, Obesity, Infertility Rheumatism, and Spinal disorders.
In 1990 Ashtavaidyan E.T. Narayanan Mooss launched a second manufacturing unit in Chuvannamannu, near Thrissur, to cater to the increasing demand for genuine Ayurvedic products and in 1992 he started another new venture, Ayurvedic Research Centre and Charitable Hospital
Contact:
Ashtavaidyan Thaikkattu Mooss
Vaidyaratnam Oushadhasala
Ollur, Thaikkattussery, Thrissur – 680 322, Kerala
Phone: 91 – 487 – 2352338, 2352398
Email: mail[at]vaidyaratnammooss.com

Related posts: