Turtle on the Beach, Kovalam-Kerala Resort and boutique Hotel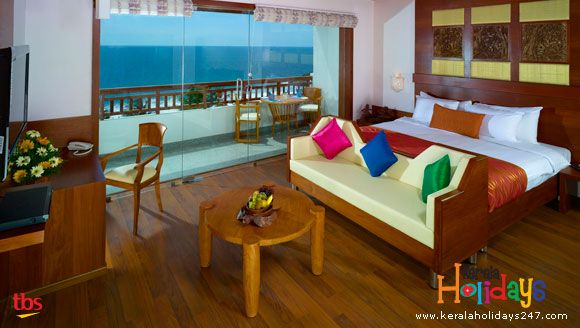 Standing tall as a lone beauty along the renowned Eve's beach at Kovalam, Turtle on the Beach is a unique Kerala resort that celebrates art along with sophisticated luxury. Art defines every space here. There is art in wood, stone, glass and in fact, every material that you come across here.
In Turtle, art celebrates the idea of an inclusive world inherent in Kerala culture. To be precise, an inclusive world is the way we coexist with different living beings in nature – animals, reptiles, amphibians. By blending the finest of art with the most sophisticated luxury, Turtle on the Beach brings about a new concept in holidaying in this part of the world. Art gives luxury a new meaning here. This is what makes Turtle on the  Beach a one- of –a-kind boutique hotel.
The facilities include the twin turtle rooms and siesta, a unique introduction in this part of the world. And there is more – three kinds of suites celebrating three themes – the Japanese style, the art deco style and the contemporary style. The view of the ocean from the Arabian Sea view room is truly spectacular.
The Presidential Suite called the Sky Suite is a totally different experience all together. At the top of the hotel and providing a stunning sea view, the sky suite comprises of a large open area, a living room and a bedroom. The open area has a Jacuzzi, beach cots, bar tables and chairs. It's a perfect place to throw party, be with family and enjoy the sea.
Catamaran, the main restaurant, serves multi cuisine delicacies. The other food points include the Blues Bar, the coffee shop. Then there is centre point which has the pool on the right and a new dining experience under the pergolas during the day and this makes way for the moonlight at night.
The boutique hotel with 44 rooms has facilities like Ayurveda, Spa, swimming pool, conference hall and boardroom etc..
Turtle on the beach
VPI/439, ITDC ROAD,
Kovalam, Thiruvananthapuram – 695527, Kerala
Ph.:  +91 471 251 4000
Email: sam.turtle[at]thrhotels.com

Related posts: