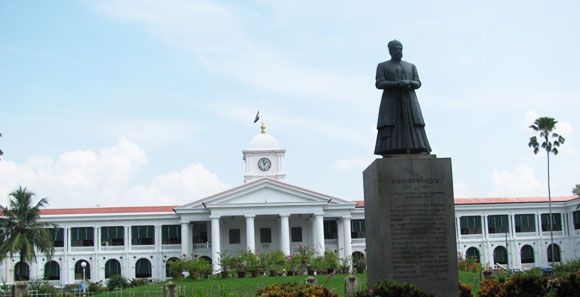 Thiruvananthapuram is the southern most district of Kerala. It is also the capital of the state.  Formerly known as Trivandrum, the name Thiruvananthapuram literally and mythologically means 'the abode of lord Anantha'. It has Kollam on the north and Thirunelveli on the east and Kanyakumari of Tamil nadu in the south. It is divided into three geographical regions namely the highlands, the midlands and the lowlands. Climatically it is humid here. Due to large scale forestation, there is intermittent rainfall throughout the year. The mountainous regions are cool and pleasant while the plains are hot and humid.  Thiruvananthapuram is connected to other parts of the state and the country with a wide network of well maintained State and National Highways, Broad Gauge railway lines and an airport situated just by the beach which consists of an international and a domestic terminal with an availability of regular flights to and fro from Thiruvananthapuram to various cities of India and abroad.
Thiruvananthapuram is divided into four talukas namely Thiruvananthapuram, Neyyatinkara, Nedumangad and Chirayinkeezhu.  All these taluks are headed by tahasildars.
Thiruvananthapuram has 116 villages under it and the district administration is headed by the District Collector.
To begin with, the epicenter of the city is the Padmanabha Swamy temple. Built by the Maharaja of Travancore in 1733, it is an architectural marvel. It is the capital of 'God's own country' and has so many attractions and places to visit that a tip is not enough to enjoy the beauty.
More on Thiruvananthapuram
Thiruvananthapuram Attractions
Famous Personalities from Thiruvananthapuram