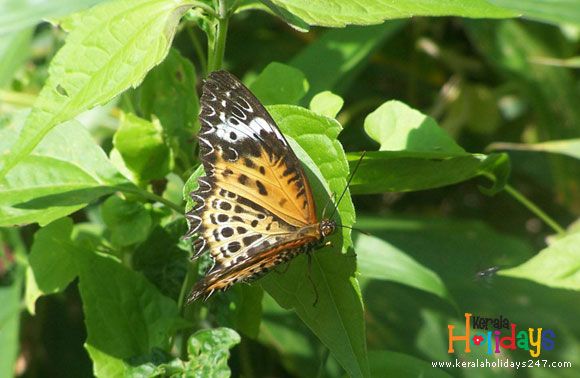 Thenmala, India's first planned Kerala Eco Tourism project, is s tiny village at the foothills of the Western Ghats, situated halfway between Thiruvananthapuram and Kollam.Thenmala lies at a distance of 66 km from Kollam town. The Thenmala town is surrounded by dense forests and a number of rubber and tea plantations.It is better known for its eco- conservation efforts and home to India's first planned ecotourism project. The Eco Tourism promotion society offers visitors to explore the forest area with a battery powered mini bus.
Thenmala is in the news again as it is now home to Asia's first butterfly park.
The park is spread over a landscaped area of 3.5 hectares and has been specially designed to be a natural habitat for various species of butterflies, which are already thronging their new home. The wide range of plants and shrubs in the park has been chosen to form suitable micro-habitats for butterflies to feed and breed in. Roosting plants, nectar providing the winged creatures with their alkaloid requirement have been planted. Mod-puddling is also facilitated-a process by which butterflies obtain their amino-acid requirements. Visitors will also be provided with an overview into the lifecycle of various species of butterflies.
Set up at a cost of Rs 25 lakhs, the park was designed by the Kerala Forest Research Institute (KFRI) and set up by the Thenmala Eco-Tourism Promotion Society and is a commendable effort towards butterfly conservation.
Thenmala spreads over several acres of evergreen forest and envisages a commitment to nature-conserving activities based on the Kallada irrigation project dam site, a part of the Agasthyamalai biosphere reserve.
Right from the start, much care has been taken to infuse the internationally accepted principles of ecotourism in the planning and implementation of the ecotourism projects in Thenmala. A well-thought out management strategy has been chalked out to create a familiarization zone to limit adverse impact on the sensitive ecology and environment of the area. The Kerala State Departments of forests, irrigation and Kerala tourism, local communities and local self government institutions are all stakeholders in the Thenmala ecotourism project.
Dormitory facility- contact- 0475-2344800
Local and Tented accommodation- contact- 0475-2344800
KTDC Motel Aaram- contact- 0475-2211600, 0475-2231050

Related posts: