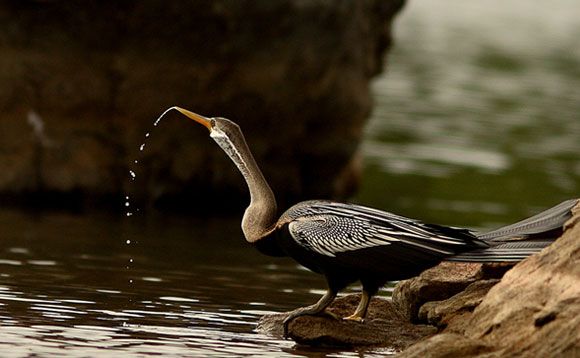 Thattekkad is 20 km from Kothamangalam in Ernakulam.  Nestled in evergreen forests, this sanctuary was found by the renowned ornithologist Dr. Salim Ali and is named after him.
Thattekkad Sanctuary
Thattekkad is home to different bird species.  By realizing the potential of this place, a bird sanctuary has been established in the name of famous ornithologist Dr. Salim Ali. The Sanctuary is aptly called as a bird lover's paradise.
The Thattekkad sanctuary has both migratory and local rare birds. One can see rare species of birds such as the Malabar pied hornbill (pandan vezhambal, the ripli owl, the Ceylon frog mouth (makkachi kaada), the Malabar whistling thrush (choola kakka) and the common grey hornbill). By visiting Sanctuary, you can see black sparrow (kakka thamburatti) which mimics the sound of eighteen birds.
Under the supervision of Dr: Salim Ali in 1993, a survey had been conducted in Thattedkkad and spotted about 130 species of birds. So Thattekkad Sanctuary has been come up for protecting these bird species. At present, Thattekkad is home to 320 bird species.
Thattekkad Sanctuary houses 60 % local rare species, rest 40 % belong to migratory birds from faraway places. Migratory birds from countries like Siberia, Tehran and Iran regularly visit this Sanctuary.
Best time to visit the Sanctuary between October and March. It is advised to visit during morning hours to spot the birds. You can take the help of experienced guides who will accompany you throughout to explain about the bird species of Thattekkad Sanctuary.
One will get detailed description about the different eco –systems of Thattekkad from the Interpretation Centre.  Visitors will get the record of rare animal species from the Red Data book kept here.
Trekking inside the forest is allowed and one can avail 3 hours trekking  journey spending Rs.500/-.
Every trekking group should have at least 5 members, and it must be accompanied by a guide.
Accommodation facilitated by Forest Department in Tree Houses as well as inspection bungalow within the Sanctuary. Adventure lovers can opt tree houses  and can enjoy the wilderness  by staying in tree houses for a day or two. Large study groups can stay at the dormitory  set up by Forest Department. Tourists can also stay at cottages owned by private individuals.
One can view full forest from the watch tower built in the forest. Forest department charges Rs. 1500 a day for two people to stay at the watch tower.
To lend a bed at the dormitory, one has to pay Rs.80.
How to reach the Sanctuary
The Kochi-Thattekkad route through Kothamangalam is about 62 kms.  You can take any bus  going towards  Thattekad, Kuttampuzha and Pooyamkutty will also take you to the sanctuary.
Phone no: 0485 2588302

Related posts: