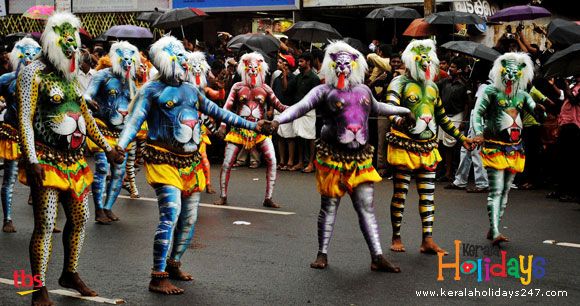 Pulikali or Kaduvakali is a traditional folkart that performed in the streets of Thrissur and Palakkad districts on the fourth of Onam. As a traditional art it is 200 year old that dates back to the reign of Maharaja Ramavarma. As per the order of the Maha Raja to introduce a new folk art with new steps and appearance that reflects the spirit of the force paved the way for this dance performance.  The people gave a special touch and movements to the dance and was first performed by muslim soldiers. They first used the technique of dancing in roads on muharram day. To memorise this People began to perform the art form in streets . This was came to be known as pulikali or Kaduvakal.  In this year (2012) it is held in september 1.
The Tiger and the Hunter comes to perform the pulikali in the streets on the fourth of Onam. The dance is centered mainly the plot of hunting a tiger. One person acts as a tiger and the other as a hunter. They will be given a special training to perform it . The actor will be given an appearance of a tiger by adapting colours on his body. This tough task will take 5-7 hours .It begins with the removal of hair from his body and then Yellow, black and red colours are applied on the body to get the look of a Tiger. A tiger image is painted on his stomach or a mask is used to resemble it. A strong patience from the part of the artist is necessary that chemicals are used to paint the shaved part of the body and it will give him a burning effect.
When the Tigers will enter in the street children and people will be surprised and delighted by its magnificent appearance. The hunting of the tiger that catches the goat and the hunters entrance to the scene to catch the tiger is performed very brilliantly with the sounds of music devices.  Udukku and thakilu are the two main instruments used in this performance.
On every year, fourth day of onam is marked by the pulikali festival. In thrissur it is mainly centred to Swaraj ground.