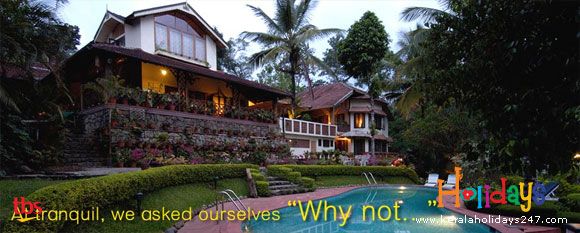 Tranquil Resorts - As its name says, 'Tranquil'is a serene stand-alone homestay tucked away in the middle of a green expanse that makes up the 400 acre Coffee and Spice Plantation of Kuppamudi Estate in Wayanad, Kerala. This award-winning hideaway is a sprawling, fully refurbished planter's bungalow oozing a special old world charm.
Started in the year 2000, Tranquil offers discerning guests a chance to relive the life of yesteryear's planters, in the exclusivity of a private estate. Your hosts, Mr. Victor Dey and Ms. Ranjani Dey have lived the planter's life for 40 years and are ably assisted in running the homestay by their son-in-law and daughter, Ajay and Nisha Mathulla.
With just 8 rooms and a Luxury tree house, Tranquil is a home-stay experience like none other. To quote a guest, "Paradise found! Tranquil in Wayanad, Kerala is just the place you want to drive to when you can't travel far, need a holiday and want to feel the soothing sound of silence".
Much of the experience of Tranquil is to enjoy its serene unpolluted environs, be it lazing around the pool, lounging in a hammock, walking round the beautiful tropical garden, or venturing out on the numerous well marked seeing the Malabar Hornbill-one of the 103 species of birds identified till date. The walks range in elevation from2600 to 35ooft above MSL, the toughest being 'BraveHeart' which winds its way through the coffee fields to the very top of the hill to 'Lookout Rock', which offers spectacular views of the Wayanad. Being a working plantation, you can go on a guided plantation tour, during which you relive the life of yesterday's planter and realize the efforts put into getting you that cup of coffee, and the vanilla for your dessert. After you get back, you can choose to relax with a therapeutic Ayurvedic massage.
At meal time, the family joins the guests who intermingle and converse. Food served buffet style ranges from Continental to ethnic.
The well-appointed guest rooms are in an annexe attached to the main bungalow and subtly furnished to reflect the colonial past. Housekeeping is impeccable. "Tranquili Tree' is a delightful luxury Tree House, with all modern amenities is insect proofed and has generator backup.
With their motto"where hospitality comes naturally", your hosts Mr. Victor Dey and Ms. Ranjini Dey are indeed a warm and gregarious couple who look forward to providing their guests with the best.
Tranquil has been featured in a wide range of publications including Taste and Travel, Go Now magazine, Tatler Tourism Guide 2001, Inside Outside magazine, etc.
Tranquil Resorts,
Awati Plantations Ltd,
Kuppumudi Coffee Estate, Kolagapara P. O., Sultan Battery – 673591, Wayanad, Kerala
Mr. Ajay Mathulla/ Mrs. Ranjini Dey
Mobile: +91 9947588507
Tel: +91 (4936) 220244
FAX: +91 (4936) 222358
Email: tranquilresort@gmail.com, rajesh@aswati.com