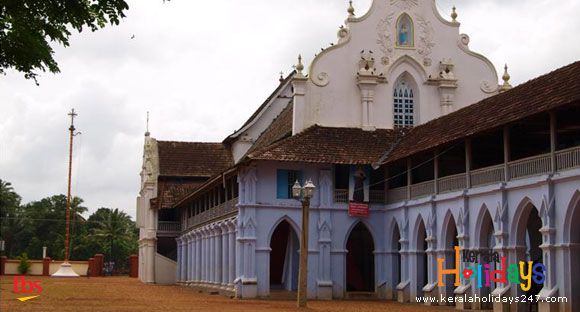 Champakulam Kalloorkadu St. Mary's Forane Church, also called Champakulam Valia Palli, is one of the oldest Christian churches in India and the mother church of almost all Catholic Syrian churches in Alleppey District. Champakulam St. Mary's Church is believed to be one of the seven established by St. Thomas. The annual feast at this church falls on the 3rd Sunday of October every year. The feast of St. Joseph is celebrated on March 19th.
There are many archaeological artifacts found around the church about its history. Champakulam church was once under Niranam Church, which was founded by the Apostle Saint Thomas himself. Champakulam Church had very friendly relations with the Jacobite Syrian group and had a pivotal role in many ecumenical efforts in the Eighteenth century.
How To Reach
Air – Nearest International Airports : Kochi (Nedumbassery – 85 km). Thiruvananthapuram (150 km).
Rail – Well connected to Major Cities.
Road – An excellent road network links the district to all major towns and cities in india.

Planning a Holiday in Kerala, give a call to our Travel Consultants on 98460 89546, who are professionals in hotels and holidays Or Fill out the form below. We will help organizing a perfect trip for you.