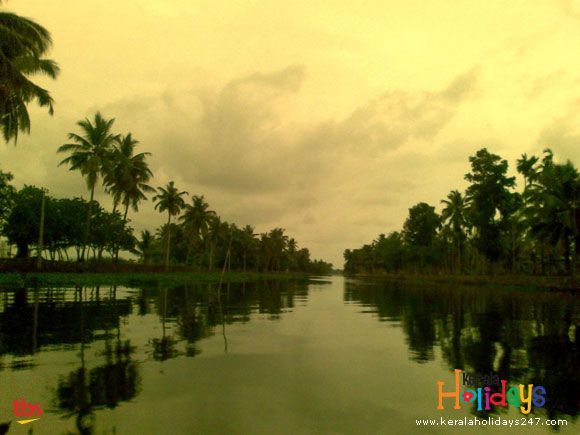 Backwater at Kuttanad is an ideal destination for a backwater cruise in Kerala. Its innumerable streams, channels, waterways and lakes make it possible to drift along in a houseboat and enjoy the scenic view of the Kerala countryside. It is also known as the Rice Bowl of Kerala because of the rich harvest of rice in the area made possible by the distinguished climate supportive of the rice plantations and of course the underwater farming. The scenic countryside here is a rich crop of bananas, yams and cassava.
The Vembanad Lake the rivers Pampa, Achencoil, Manimala, the myriad streams flowing through Kuttanad in addition to the lush vegetation provide an amazing sight to this destination.
It is also famous for its thrilling water sports like the Snake boat race generally held in the months of July, August and September.
The region is well known for its rich avian population. Flocks of parrots hovering in the paddy fields, is a common sight.
The canals and waterways also provide an alternate mode of transport, and you will see many rural folk calmly and quietly gliding along the canals in their canoes from one place to the other. Kuttanad gives you the real picture of farmer's life and throws light about their way of living and culture.
If you sail on the backwater cruise in Kuttanad, you can hit upon lush paddy field which dances to the tune of the wind. All the way you can spot white cranes traveling with you in air. Sometimes, you will find king fishers making a dive for catching a fish. Number of Siberian migratory birds will be searching for their destination point.