Symbiotic Punctuation – Amazing Collection of Paintings exhibited at Vernissage Art Gallery from Aug 20 – Sep 17, 2011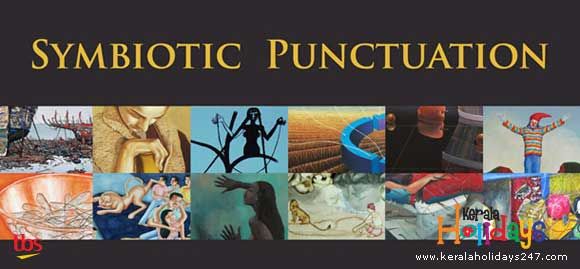 Vernissage is presenting an Exhibition of paintings titled "Symbiotic Punctuation" by twelve Malayali artists. It has already started  at Vernissage Art Gallery, Kochi  on  20th August  and continue till  17th September 2011. The gallery will be open from 11 a.m. to 7 p.m
Twelve artists have come together from several parts of Kerala and displayed the array of their imagination in the amazing exhibition called the "Symbiotic punctuation."
C.N.Karunakaran, senior artist and former Chairman of Kerala Lalithakala Akademi inaugurated the exhibition on  20th August evening.
The participating artists are C.F John,K.T Mathai, Zakkir Hussain, Bahulayan C.B, Santhoshlal P.M, A.P Sunil, Martin O.C, Radha Gomaty, Sreeja Pallikara, Deepthi P. Vasu, Ramya R.S. and Prasad K.P
Radha Gomathy's painting "The presence" which is being on display at the Vernisage Art Gallery, Kochi. This is about a woman closing her eyes, head little upwards and touching nothingness as if she touches someone.
Deepti. P. Vasu, paintings emote  the feelings of grief, tension and anxiety in humans when they pack up and change places.
K.T Mathai's painting titled "Fairy tales from a lost land" portray the loss of what was once beautiful. He had spent his childhood in a village full of greenery full of trees and enjoyed that. But everything has been destroyed and vanished forever. In this backdrop, he has sketched around 15 paintings to make people understand the value of the greenery, trees and their value in our life.
Another set of paintings that stood out was by C.F. John, named "Still. Silent", both these paintings are of a similar looking woman who has tremendous grace and has an aura of peace and tranquility.
Vernissage
G 397, Behind Center Hotel,
Panampilly Nagar,
Cochin – 36.
Email: mail@vernissageart.org
Tel. +91 484 4000903
Mob. +91 95678 66430

Related posts: