Sree Chithrakoodam Homestay, Palakkad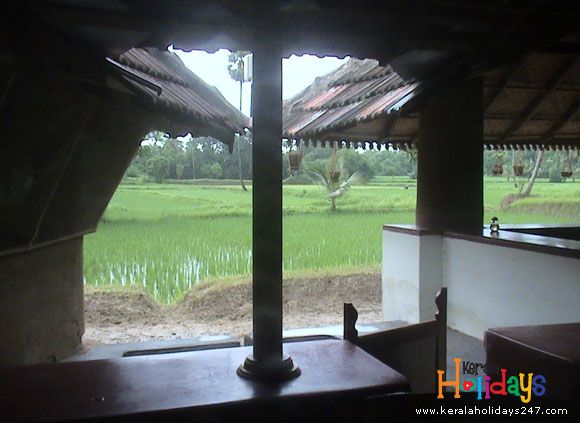 Sree Chithrakoodam, a traditional Kerala homestay near Chittoorpuzha in Palakkad is an architectural marvel built of mud set on the banks of a gently flowing river amidst lush green  paddy fields.
On arrivel you are recevied by the hosts, the Sivasundaran couple and taken to their family. Accommodation is in the form of two fully furnished bedrooms with spacious attached bathrooms. One of the uniqe features of Chithrakoodam is the wide veranda on all four sides which provides natural ventilation. Most of the structure is built out of mud and fresh air and positive energy fill the house. Its uniqueness lies in its capability to maintain a comfortable room temperature in all climatic conditions. The red oxide flooring adds to the cooling effect. Bamboo, mulberry wood and clay tiles have been used for the roofing. The large stretches of paddy fields and the coconut groves that surround the homestay give it a truly ethnic ambience. Guests can spend the morning listening to the chirpings of the birds and sipping hot tea flavoured with fresh milk from the cow in the homestays farm which also has goats swans, rabbits,honeybees,etc.
What makes Sree Chithrakoodams cuisine really special is the way it is prepared. The food is cooked the traditional way in pots made of clay, stone and bell-metal and cooked on a hearth using firewood. The ingredients for the various curries are ground on a stone called the 'ammikallu'. One can have traditional Palakkadan homely food including  ela ada, puttu-kadala, kozhukkatta, iddli, seva, sadya, palada, etc., served on banana leaves. Guests also get chance to see way the food is prepared. The family is extremely eco-conscious and uses alternative sources of energy and biogas for cooking and powering lights.
A range of exceptional activities await at this homestay. One can enjoy folk arts like Pulluvanpattu, sung in praise of the serpent gods; watch people involved in traditional jobs like weaving bamboo mats; seek astrological advice and even go in  for a palm reading experiences; visit the temple in and around Palakkad and witness traditional rituals, etc. Nearby sightseeing opportunities include Nelliyampathy hill station, Malampuzha Dam, Silent Valley Wildlife Sanctuary etc.
Enjoy a homely holiday and get a true glimpse of Palakkad at Sree Chithrakoodam!
Sreechithrakoodam
Nelliyampadam, Polpully P O, Palakkad – 678 552, Kerala
Tel:04923-224414 / Mob: 09947097437
Email: mudhousefarm[at]gmail.com

Related posts: