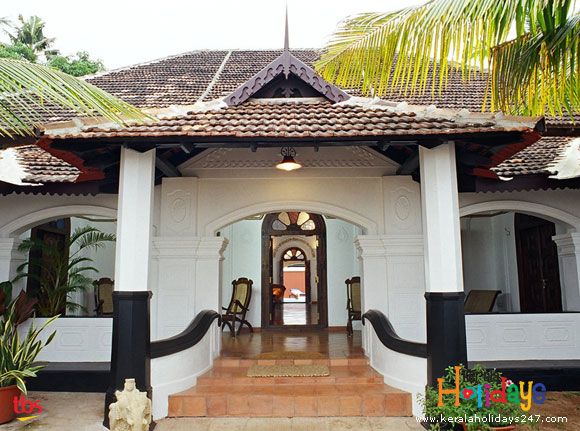 One of the real Heritage hotels in Kerala, the Raheem Residency, is located just off Alleppey beach. It is an 1868 colonial property , which was passionately restored in a classic, Indian style in 2003 by a Indo-European couple. Intimate and personal, this 19th-century colonial villa is suited for those looking for luxury and romance, in Kerala style.
It was the home of the Raheem's for five generations over the last 100 years until 2003 when it became a heritage hotel. Beautiful and lazy, quiet and yet equipped with all the modern day amenities today, this heritage property promises a once-in-a-lifetime experience to the guests.
This Kerala property has been beautifully restored, combining old world charm with the best of modern amenities. A beautiful swimming pool in the courtyard, a well stocked library, gourmet food, tailor-made Ayurvedic treatments, and lovely well-appointed rooms done in the traditional Kerala style.
Accomodation at Raheem Residency – This boutique heritage property offers 10 rooms, including six high-ceilinged en-suite air conditioned bedrooms, an airy main hall with original glass fanlights and window shutters, all furnished with antiques from Kerala. There is a veranda at the front as well as the back, ideal for reading in your spare time.  The most special one is the Raheem honeymoon suite with a Kerala-style roofless bathroom with just the stars above you.
Dining at Raheem Residency – Let your taste buds savor the distinct tastes of the exotic Kerala food cooked in the Raheem Residency kitchen and served at the rooftop restaurant known as the Chakara Rooftop Seaview Restaurant. Dining here is a unique experience as you gaze at the dancing waves of the mammoth Arabian Sea while you relish your meal.
Raheem Residency, Beach Road, Alappuzha – 688012