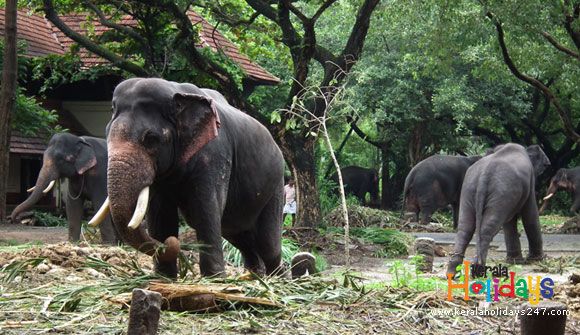 Punnathoor Kotta is located close to the Sree Krishna temple at Guruvayoor in Thrissur district, Kerala. Punnathoor Kotta was once the fort and palace of the erstwhile kings of Punnathoor, now the palace premises  accommodates probably the largest collection of captive elephants in the world. This elephant camp is a fascinating spot for pilgrims and those who comes for Kerala travel. Punnathoorkotta, should be included in your Kerala wildlife package and elephant camp tours itinerary. Spend a day in this elephant Sanctuary, you can witness elephants taking bath, training and grooming elephants, baby elephants playing around and enjoy elephant ride also.
The elephants housed here are those offered to Guruvayoor Sree Krishna and they receive Sukha Chikitsa or restorative treatment annually during the rainy month of Karkidakom during which each elephant gets extra food. Weaker ones are provided with pressed rice, dates, plantains, egg and milk. There are 35 office staff, an in-house veterinarian, livestock inspectors, supervisors and their assistants to look after the elephants. Elephants groomed in Punnathoorkotta are used for rituals and festivals in Guruvayoor temple , and also train them for Thrissur Pooram.
Legendary Guruvayoor Keshavan,king of elephants, was housed in Punnathoorkotta.
The palace compound has a traditional rectangular structured nalukettu with a central court yard open to the sky,a training school for Papans (Mahout) and a temple dedicated to Lord Shiva and Bhagavathy.
Some shots of famous Malayalam movie "Oru Vadakkan Veeragatha" were filmed at Punnathoorkotta.
Location – 2 km away from Guruvayoor Sree Krishna temple
The visiting hours – 9.30 AM to 5.30 PM.
The entry fees – Rs 5 per adult.
Charge for using camera inside the complex – Rs.25
Related posts: