Old Harbour Hotel – heritage boutique hotel in Fort Kochi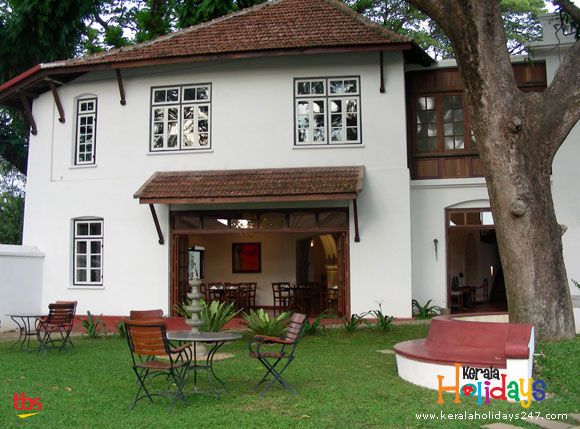 Old Harbour Hotel is a 300 year old building, now beautifully restored as a heritage boutique hotel in Fort Kochi. It is one of the best examples of the Dutch architecture with hints of Portuguese influences. This first hotel of old cochin was once residential home to employees of English tea-broking firms
Call as a boutique hotel, but it is more a home and unlike a hotel in every other way. It offer an intimate and welcoming environment. A special balance has been struck between colonial heritage and modern-day requirements thus creating an alternative to large luxury hotels. This hotel maintains the character of the heritage zone while meeting the highest modern expectations.
The 13 rooms are comfortable and spacious, complete with modern amenities, some facing the fountain and  others chinese fishing nets. Each room is of particularly generous proportions reflecting the grandeur of the hotel building. Special garden cottages, which were added to offer a feel of Kerala, have open-to-the-sky showers, a veranda and a private pond. Enjoy a dip in the pool while the breeze from the Arabian Sea caresses you. For the comfort of guests, there is an Ayurvedic spa, a large open-air terrace  and extensive recreation facilities.
Done to perfection by experienced cooks, the authentic recipes will surely leave your taste buds yearning for more. Fresh fruit juice and homemade bread are a priority here.
Old Harbour Hotel
1/328, Tower Road, Fort Cochin, Kerala, India
Phone: 0091 484 2218006, Mobile: 0091 98470 29000
raintree@fortcochin.com, www.oldharbourhotel.com

[youtube_wpress id="emkNbPZ5sJY"]
Related posts: