MV Kavaratti – new passenger ship between Kochi and Lakshadweep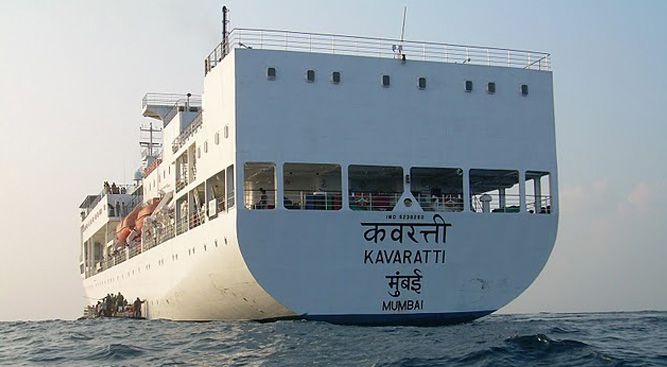 The new passenger ship, MV Kavaratti that will ply between Kochi and Lakshadweep, was dedicated to the people.
Speaking at the launch Mr. B.V. Selvaraj, Lakshadweep Administrator, expressed the hope that the ship would help boost tourism to the islands and make Lakshadweep the 'Maldives of India'.
The 700- seat all-weather ship, with modern amenities and latest navigation tools, has 300 upper-class seats, many of which will be allotted to tourists.
Of the roughly 40 islands that make up Lakshadweep, only 11 are inhabited. Mr Selvaraj said the idea was to promote tourism in the uninhabited islands without affecting the local culture and traditions and the enthnicity of the islanders. He pointed out that the ship's fare would be subsided for the islanders, but tourists would have to pay a 'much higher fare', The tourists are was expected to meet part of the ship's operational costs.
MV Kavaratti can carry 160 tonnes of cargo, which will prove of great benefit to the people of the Lakshadweep who get most of their provisions and vegetables from Kochi.
The addition of MV Kavaratti will bring the total number of ships in the island's fleet to 6-three all-weather ships. The new ship is bigger and better equipped than the other two all-weather vessels, M.V.Tipu Sultan and M.V.Bharat Seema.

Planning a Holiday in Lakshadweep, give a call to our Travel Consultants on 98460 89546, who are professionals in hotels and holidays Or Fill out the form below. We will help  organizing a perfect trip for you.
Related posts: