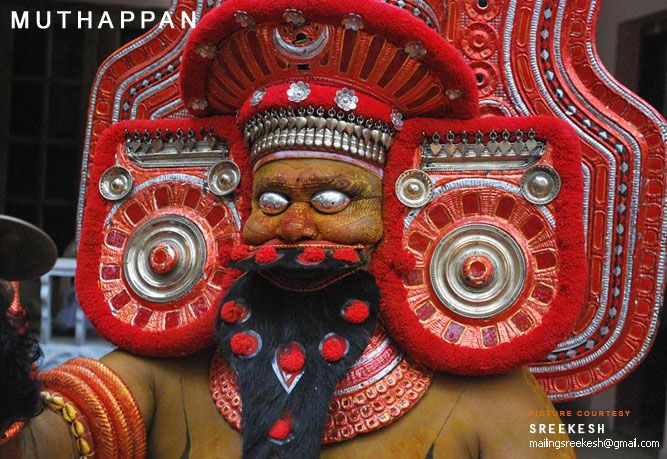 Muthappan Theyyam is supposedly an auspicious start to anything.
Parassinikadavu Muthappan's shrine at Parassinikadvu, a village in the district of Kannur,  Kerala belongs to a Thiyya family. The muthappan is usually worshipped every day but  special offerings are made on Kerala festive occasions. An important offering to the Muthappan is called Vellattam or Thiruveppu, during which two or three performers impersonate the Muthappan and perform before the deity.
When devotees make an offering of a Muthappan Theyyam, they are believed to be blessed as this is considered as one of the most sacred forms of Theyyam. The Parassinikkadavu Muthappan Temple, the only temple where the famous Muthappan Theyyam is performed every morning and evening, stands on the banks of the Vallapattanam River.
It believed that Sree Muthappan is the incarnation of Lord Shiva in the form of a hunter. Lord Shiva, under the spell of Shani Devan (Saturn), went to the forest of Parassini for penance and attained moksha (salvation) during the penance. The temple came into being when the Thiyya family placed an idol at that spot in the forest. This went on to become the famous Parassinikadavu Muthappan Temple.
Another myth goes that Muthappan is believed to be the personification of Vishnu and Shiva. The Ayyankara Illath Vazhunnavar and Parvathikutti Antharjanam, the Naduvazhis or landlords of Eruvesi of Kannur District were unhappy as they were childless. Lord Vishnu and Lord Shiva showered their blessings on their ardent devotee Parvathikutti (Padikutty) Antharjanam. One day, she chanced upon a pretty child lying by the wayside. She took the child home and brought him up as her own son.
However, growing up, the boy disappointed his parents as he failed to keep to the Namboothiri lifestyle. He was more interested in hunting, fishing, drinking toddy and sharing food with the poor and backward communities. It is said that one day the boy appeared before his parents in his divine form-with bow and arrow and fiery eyes. His parents understood that the boy was not an ordinary child and prayed for his blessing.
One day, Chanthan a toddy tapper in Kunnathoor found that toddy was being stolen from his palm trees every day. Thinking the culprit was an old man, Chanthan tried to shoot him with his bow and arrow. As he took aim, Chanthan fell to the ground and was found lying unconscious by his wife. She looked up and saw an old man on the top of the palm tree. She realized that the old man was a godly figure and calling him 'Muthappan'(grand father), she begged him to spare her husband. Even today in Sree Muthappan temples devotees offer boiled gram and sliced coconut as did Chanthan's wife. Chanthan requested Muthappan to choose Kunnathoor as his abode and the place is now known as Kunnathoor Padi. According to this version of the legend, Muthappan shot an arrow towards Parassinikadavu and appeared as an incarnation of Lord Siva there. A famous pilgrim centre, food is distributed free of cost to devotees at Parassinikadavu Muthappan Temple.