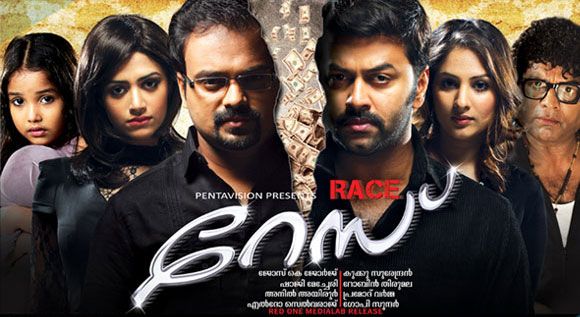 Race Malayalam Movie Crew & Cast
Movie Name : Race
Genre :Family thriller
Star Cast :- Kunjacko Boban, Mamtha Mohandas, Baby Anika, Indrajith, Jagathi Sreekumar, Sreejith Ravi, Manu Jose, Geetha Vijayan, Kavitha, Lekshmi etc.
Director : Kukku Surendran,  he himself scripted the film – his previous films are Veeralipattu  and  Oral
Producer : Shaji Mecheri & Jose K George under the banner of Pentavision.
Music: Viswajith
Lyrics: Rajeev Nair & Vayalar Sarat Chandra Varma.
Shooting location : In and around Cochin
Release date of movie Race  is 11th February, 2011
Pentavision, is a leading Television player and they are making  entry to big  screen through RACE.  It is their first big screen venture. The film is the first one  in Malayalam cinema to be shot with a Red One 4K camera.
Story line
Race is a family thriller . Kunchako Boban, Mamtha Mohandas, Baby Anika and Indrajith appearing in the lead roles.
Race based on the conflicts between honest and dishonest ways in making  money.
Plot revolves around Dr. Aby John(Kunchako Boban) and his little family comprises of his wife Niya (Mamtha Mohandas) and baby girl Anu (Baby Anika). Dr. Aby John is a successful Cardeo Surgeon and received IMA award for his services. Aby leaves for Banglore conference and there brings twist to the story.
Mr. Aby is kidnapped by Niranjan (Indrajith) on his way to Bangalore.  From here on, the movie gathers steam, moves to an unexpectedly beautiful and thrilling climax.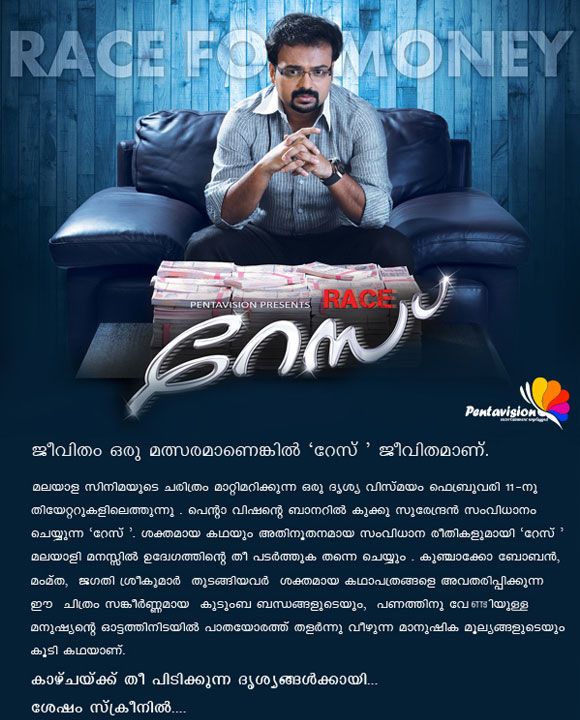 Related posts: