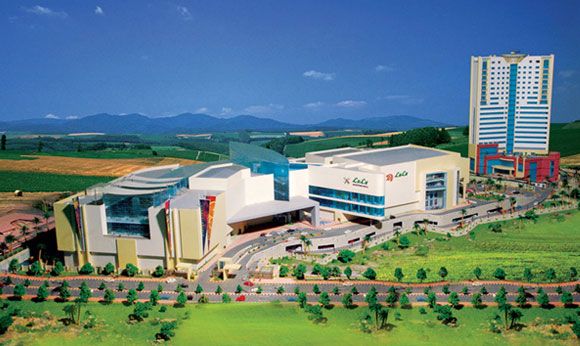 LULU International Shopping Mall in Cochin – India's largest shopping mall
 Kochi will soon have a new shopping experience that will change the face of the city. Lulu International Shopping Mall claimed to be the biggest in the country is coming up with its multiplex –hypermarket- hotel to be opened by mid 2011.  The mall is nearing its completion and going to be landmark for the state of Kerala and its people.
The project of Rs.1,500 crore spread over 17 acres of prime land and located at the interjection of National Highways 17 and 47 near the Cochin bypass is built up with a massive space of 25 lakh sq. ft.  Designed by a renowned U.K.-based consultant, this multiplex- hypermarket complex provides ample parking facilities for 3,000 cars with easy access from all main roads.
The mall provides a unique shopping destination in four floors featuring some of the best brands in fashion, cosmetics, home furnishing, jewellery, bookshops, sports store and coffe shops. It will also have nine-screen multiplex with most modern facilities, and entertainment hub with children's amusement centre with computer games, rides, ice rink and bowling alleys. The food court with a seating capacity of over 3,500 will have 18 multi-cuisine restaurants.
Another unique feature of the project is the 315-room five-star hotel, managed by the global brand Marriot, with top class facilities like spa, gym, swimming pool and banquet halls.
The project once completed will create 8,000 direct job opportunities and 20,000 indirect jobs.
Category:  Shopping Mall
Phone:  (0484) 2558436 , (0484) 4058786
Address: 50/2392, NH17, Edapally , Ernakulam- 682024 , Kerala
Landmark: Near Edapally Signal