Krishnendu Ayurveda Hospital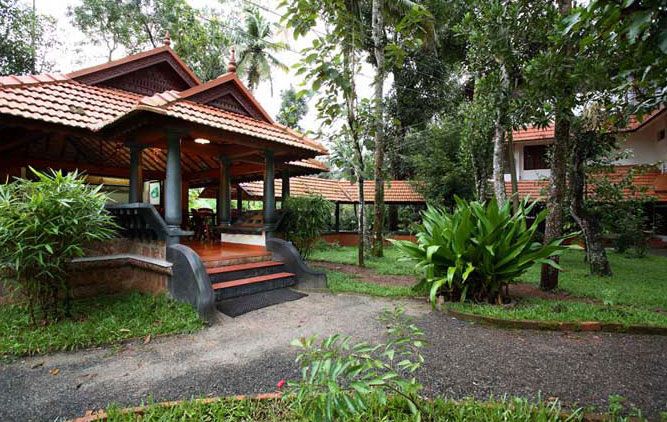 Krishnendu: Treating with dignity
With the proud legacy of traditional Ayurveda practices, Krishnendu Ayurveda Hospital at Alleppey, offers a perfect setting for rejuvenation. Situated on the tranquil coastal belt of Chingoli, it takes you far away from the hassles of hectic life schedule.  Surely, the serenity and scenic beauty of the village set the mood to indulge in Ayurvedic therapies.   Built in traditional Kerala architectural style,  its inpatient rooms are spacious and radiate old-world charm and tranquility.
Treating through centuries
The rich tradition of Ayurveda got institutionalized when late Kunjiraman Vaidyan, a hard-core practitioner of Ayurveda started Sree Ramakrishna Pharmacy in 1908. His son Vaidyakalanidhi Krishnan Vaidyan handed the baton over to the present generation. Dr. C.K.Suresh Babu and Dr. C.K.Mohan Babu are spearheading the current activities of the pharmacy. They are committed in conducting several rural free medical camps to the poor and needy. In 1997, Dr. Mohan instituted 'Krishnendu' with 20 resort type inpatient rooms.

Krishnendu
Dr Mohan trusts that Ayurveda is a science of good life and longevity and a philosophy and system of healing the body and mind. As per Ayurveda, life is a combination of the sense, body, mind and soul. Hence Ayurveda focuses not only on the body, but on the mental and spiritual personality as well, taking into account each patient's physical, mental and spiritual conditions while treating the ailement. 'What is so unique about Krishnendu is that it has successfully harnessed Ayurveda to treat modern lifestyle related health problems like spinal disorders, arthritis, and obesity. Krishnendu also offers excellent rejuvenation therapy packages', he said.
Facilities and Treatments
The hospital has its own facilitieswith modern technologies to make medicines and herbal preparations. The Green leaf ceritied and ISO accredited hospital offers both preventive and curative Ayurvedic treatments. Under experienced doctors and health care professionals, it offers effective packages for modern life style related disorders. Kaya Kalpa, Snehapanam, Swedana (herbal steam bath), panchakarma procedures like Sneha vasti (oil enema), Nasyam (inhalation of medicated oil or powder), Vamanam (emesis) Virechanam (Purgation) and general procedures like Dhara, Navarakizhi, Kadee vasthy, Greeva vasthy, Abhyanga, shirodhara, Shirovasthy, Choorna Swedam, Tharpanam etc are effectively done here.
For back pain and neck pain , the two major lifestyle diseases, Krishnendu offers specialized treatments. Treatment of Arthritis, Stress and Immunity imbalance are other specializations. Krishnendu has developed a comprehensive and absolutely natural obesity reduction programme.
Through a set of therapeutic body massage herbal medicines and special diet, Yoga and positive lifestyle tips, this programme proved effective in bringing down obesity Krishnendu has Physiotherapy department and herbal beauty salon. Broad band internet connectivity, Mini library, Recreation hall, Satellite television and Travel desk are other facilities available here.
'We are coming up with a new project that will have 10 rooms with a swimming pool and an ayurvedic spa of international standard attached to it Aimed mainly at the foreign patients, the treatment here will incorporate swimming and yoga too', said Dr. Mohan Babu.
'In general, our treatments spring  from this deep, traditional understanding of Ayurveda. A qualified special research and development department is meticulously working to bring out new treatment packages. If you practice and propagate Ayurveda in its true form, more patients from aboard. At the same  time we must introduce a primary education programme on Ayurveda domestically. This can help create awareness among our people about leading a healthy way of life'. He concluded.
Krishnendu was awarded Global Excellence Awarded 2010 for the best ayurveda Hospital from global Malayalee Council.
Heritage Herbals is the manufacturing and exports division with ISO and GMP certification. Medicines are prepared according to strict hygiene standards and used for the exclusive treatment procedures. These medicines are exported to countries like U.A.E, Singapore, Malaysia and Maldives.
Krishnendu Ayurveda Hospital
Chingoli, Karthikappally,
Alappuzha , Kerala – 690 532,  India
Tel: +91 479 2486337, 2485577 & 2485588
E-mail:  krishnenduhospital[at]gmail.com
Enquiry Form
We would love to hear from you! Please fill out this form and we will get in touch with you shortly.

Related posts: