Kerala Travel and Tourism Campaign – Go Kerala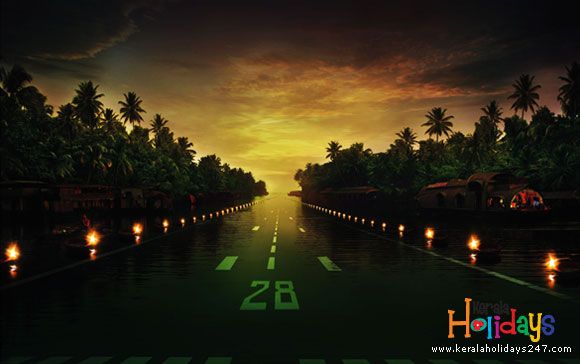 Kerala tourism is committed towards transforming Kerala to be Asia's foremost tourism destination. The Kerala Government  is striving  hard  to develop diverse, unique and quality Kerala travel services and products that would make Kerala as a unique destination, globally. Kerala Tourism Department has used tourism campaign promotion on wheels with "Chalo Kerala – Go Kerala". Rajdhani Express from Delhi to Kerala was the first such Kerala tour promotional activity.
Mr. Kodiyeri Balakrishnan, the Minister for Home Affairs and Tourism feels that campaigns like 'Go Kerala' will help to attract more tourists to Kerala jade backwaters, houseboats, boat races, lush hill stations, exotic wildlife, serene beaches and enchanting art forms. Kerala is the first tourism destination in India to use train branding to promote the State among domestic travellers. It will be one of the most visible and high impact campaigns ever undertaken by Kerala Tourism. The Kerala tourism Minister said that he is confident that this unique marketing activity will showcase Kerala and attract more and more Indian travellers to Kerala. Kerala tourism has intentionally given more significance to invite the attention of domestic tourists of late. And this year, KTDC – Kerala tourism department Corporation would be giving more, space, time and efforts to have their campaigns tailor-made to increase the presence of domestic tourists in Kerala. Last year, around 75 lakh domestic tourists visited Kerala. In the current year, Kerala Government expect an increase of 10 per cent in Kerala travellers.

Related posts: