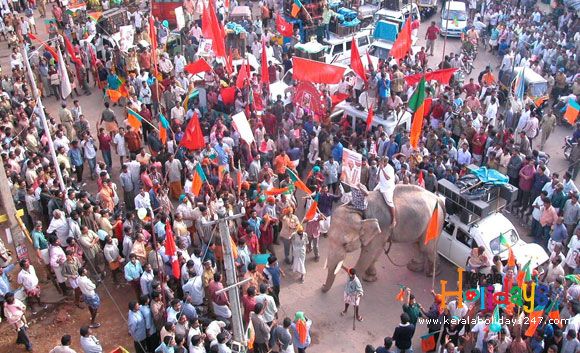 Kerala State Election – Kerala state Legislative Assembly elections will be held on Wednesday, 13th April, 2011.   This 13th assembly election is to elect  the members of the 140 constituencies in Kerala. Filing of the nomination completed on March 26th and scrutiny of the same will be taken on March 29th. Election results will be out on 13th May, 2011. Electoral alliances are were taken shape prior to the poll. Two major coalition parties, both ruling LDF and opposition UDF were involved in talks with allies to resolve the differences and seat allocation.  Finally  major parties and their allies came to seat sharing formula through amicable agreement  and list of candidates has been announced. The BJP is contesting alone in Kerala. Many enthusiastic ,energetic young people has been given chance to contest is a prime feature of this year's state election.
Election manifesto released by parties to woo voters. LDF released the election manifesto and promises Rice at Rs two per kg, 2.5 million new jobs, and hiking of social pensions to a minimum of Rs.1,000. UDF Manifesto for the assembly polls 2011 assures Rice at Rs one per kg for BPL family and continuation of the programmes of the previous UDF rule that has not been implemented yet.
An aggressive sensitization campaign is carrying out by candidates take stock of the contemporary issues alongside election manifesto plans aimed at luring voters to the ballot box.
Opinion Poll conducted by Asianet  has given the Congress an edge and predicts a victory for UDF in the Kerala state elections 2011.
Constituencies – Interesting facts

Pathanamthitta – Highest number of voters·
Kozhikode South – Least number of voters
Aranmula – Highest number of female voters
Peerumedu – Most number of polling booths
Kerala election attracts attention of the public especially  common man and  hot  discussions are everywhere about the candidates and their winning possibility. Election is the mainstream discussion  in every nook and corner of Kerala. Wayside eateries,libraries where common people normally come together to kill time,become the hot venue for election discussion.
Transpire Holidays  wish, whoever is selected, should work for the  betterment of the common people. Hope there will be no more decisions get stuck in heap of files tied in red tapes.