Kerala Houseboat Cruise Directory Alappuzha and Kumarakom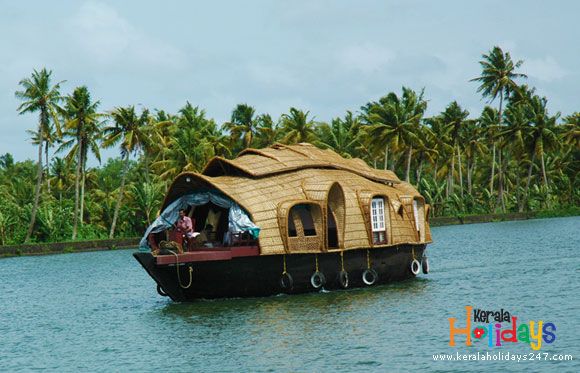 Kerala Houseboat Cruise is one of the highlights of your Kerala Holidays. The countryside when experienced on the cruises is an unforgettable experience. For the nature lovers cruises in Alleppey region of Kerala displays the fabulous flora and fauna.
Kerala is crisscrossed by 5 major lakes, in numerous canals and lagoons and the estuaries, and deltas of forty-four seething rivers and these make up the famed backwaters where the majestic houseboats ply. The favored districts for houseboat cruises in Kerala are Kollam, Alappuzha, Kottayam and Kochi. The Ashtamudi Lake being the second longest backwater stretch in Kerala offers a long idyllic siesta in your houseboat cruise.
The houseboats can be categorized as Budget, Deluxe, Premium and Five Star Houseboats. The basic service  available on all categories of houseboats are same as overnight stay in the houseboat, food and beverages and cruising through the backwaters.
Here we cater a detailed directory of House boats, contact numbers and e-mail ids. You can pick the suitable Houseboat operator and book a relaxing cruise package.
House boats directory Alappuzha
A.K.Recreation& Leisure, Pallathuruthu
Ph: 9447177566
Email : vinod@akrl.com
Adithya Houseboats, M.O. Ward.
Ph:9847038282
Aiswarya Business Kaniyamkulam
Phone : 2269892
Alappatt Cruise, Finishing Point.
Ph:9846896939
Email : alappattcruises @yahoo.co.in
Alwin Tours Pallippad,Harippad
Ph:9495442534
Amritha Houseboat's
Ph:9249389274, 9847862771
Email : amrithahouseboats@gmail.com
Angel Queen
Ph:9847504216
Anjali Tours &Travels, Finishing point
Ph:9847524910
Email : anjalihb@gmail.com
Anjay Tours &Travels, Finishing point
Ph:9847850314
Email : anjaytours@yahoo.com
Aqua Holiday
Ph:9846117022
Email : aquaholidays@ gmail.com
Aria Holidays & Resorts, Punnamada
Ph-9846533030
Email : ariaholidays@yahoo.com
BensHolidays
Ph:9847505578
Email : diamondcap@gmail. com / bens_holidays@yahoo.com
Blue Float
Ph: 9447804142
Email : holiday@blueflot.com
Blue Lagoon Tours
Ph:9847075975
Email : bluelagoon@bsnl.in
Blue lake, Finishig point
Ph:9495212190
Bay Pride, house Boat, Finishing Point
Ph:9895426992
Email : info@baypridetours.com
Bon voyage, Near Boat Jetty
Ph:9847310105
Email : bonvoyages@sancharnet.in
Canal view tours&travels
Ph: 9388686430
Email : canalviewboats@yahoo.co.in
Cheravally Ethiretu
Ph:9446855869
Email : cheravallyhoouseboats@yahoo.com
Cherukara cruise, East of KSRTC Bus Station
Ph:9947059628
Email : cherukaranest@gmail.com
Chackochi House Boats, Changanacherry
Ph:9447602220
Email : bijuchry@gmail.com
Bright Water Cruise, Starting Point
Ph: 9447010002
Email : info@whitewatercruise.com
Coco Planet Tour & Co, Rajeev Jetty Road
Ph:9847325026
Email : cocoplanet@gmail.com
Cosy Tours, Finishing Point
Ph:9847102160
Email : cosytours@yahoo.com
Crusier, Finishing Point
Ph: 9846032606
Email : cruisor @rediffmail.com
Desire Cruises, Nettoor, Kochi
Ph:9387686210
Email : info@ Desirecruises.com
Drem Cruizers, Kottayam
Ph:9447704971
Explorers, Finishing point
Ph: 9447209173/ 0484-4000099/ 3241345
Email : explorersholidays@ gmail.com
Eden Home Tour, Church Road
Ph: 9847054232
Ever green, Finishing Point
Ph: 9846046550
Email : vergreentour@ yahoo.com
Flemingo Crusie
Ph: 9961473609
Email : info@flamingohouseboats.com
Far Horizon Tours (p) Ltd, Kadavanthara & Thottappalli
Ph: 0484-6584074
Email : kochi@ farhorizonIndia.com
Gods Own Tourism, Chungam Ward
Ph:9447260371
Gokul Cruise
Ph: 9847744000
Email : gokulcruise1@rediffmail.com
Gold river
Ph:9447143826
Gourikrishna tours, Near Rajeev Jetty
Ph: 9846188438
Email : gourikrishnatours@ yahoo.co.in
Good will Tours & Resorts, Canal ward
Ph:9446005515
Email : info@ goodwilltr.com
Grace Tours
Ph: 9349830909/ 0477-2615230
Email : mail@gracetourskerala.com
Granma Tours
Ph:9447249685
Email : granmatours@yahoo.com
Greenlakes Cruise
Ph:9447909414
Email : greenlakes@rediffmail.com/ info@greenlakescruise.com
Green River Voyages, Chungam
Ph:9447015722
Email : info@lakepalaceresort.com
Green Waves, Kanjippadam
Ph: 9447125715
Email : mail@greenpalaceKerala.com
Guardian Tours & Travels
Ph:9847067100
Email : guardianhouseboats@yahoo.co.in
Heritage Tour Kerala
Ph: 9847044066
Holiday Home
Ph:9744860123
Email : enquiry@keralaholidayhome.com
J&B White Orchide, Thottuvathala, Kainakary
Ph:9847099963
K.T.C, West of KSRTC Bustation
Ph:2254275
Email : ktchouse@yahoo.co.in
Kandathil Tours & Travels, Thathampally. P.O
Ph:9947396744
Email : kandathiltours@yahoo.com
Kerala Guru Tourism, Finishing Point
Ph:9847902879
Email : mail@keralagurutour.com
Kerala Mayers, Finishning Point
Ph:0478 2810234
Email : keralamayers@yahoo.com
Kerala Tours
Ph: 9847040200/ 9446354440
Email : keralatours@yahoo.com
Kearla Trails
Ph:2238145/ 9847300003
Email : info@keralatrails.com
Kiliroor House Boat, Punnamada
Ph:9447896959
Email : josephkiliroor@yahoo.co.in
Lake Pearl, Vellakinar
Ph: 2262950/ 9895136620
Email : lakepearl houseboats@gmail.com
Lake & Zphyr Cruise
Ph:9447618353/ 9846618353
Email : info@keralalakezephyr.com
Lake Palace, Chungam
Ph:9446539704/ 0477-2230004
Email : info@lakepalaceresort.com
Leisure De Holidays, Finishing point
Ph:9447399451
Email : mail@leisuredeholidays.com
Love dale, Punnamada
Ph: 2244185/ 9846064222
Manikyam Boating Group
Ph: 9496158008/ 9447902459
Email : dineshalleppey@sify.com
Malikayil House Boats, Opp. KSRTC Bus Station
Ph: 9846138420
Email : malikayilholidays@yahoo.com
MayoorCruise, Pallathuruthy
Ph:9847122489
Email : mayoora_alleppey@yahoo.com
Milky Way Tours
Ph:9847083679
Email : jacobmilky@ yahoo.com
Moonlight Cruise
Ph:9446037561
Email : info.moonlightcruises@gmail.com
New Western Tour
Ph:9447659029
Pakken Holidays, Pallathurthi
Ph:3241748/ 9048003239
Email : pakkenholidays@yahoo.co.inapalm
Verde Tours, Punnamada Jetty
Ph:9744175544 / 9946353366
Email : mail@palmaverdetours.com
Penta green Hotels, Finishing Point & Kumarakom
Ph: 9847156166
Email : pentagreentours@gmail.com
Pickadly House Boat
Ph:9446171094
Email : pickadlyhouseboats@yahoo.co.in
Pournami Tours, Finishing point
Ph:9447776841/ 9847588880
Email : purnamitours@gmail.com
Pulikkattil House Boats, Finishing Point, Punnamada
Ph: 9447044790
Email : pulickattil@gmail .com
Puthussery Travels, Jetty Road
Ph:9447104146
Email : puthusserytravels@yahoo.co.in
Punnamada House Boats, Punnamada
Ph:9447133691
Email : mail@punnamada .com
Rainbow Cruises
Ph: 98470 39399
Email : info@rainbowcruises.in
Raj Cruises, Near KSRTC Bus Station
Ph:9895114885
Email : rajcruises@yahoo.com
Reverine Cruise, Church Road
Ph:9447776421
Email : reverinecruises @gmail.com
Real Dreams
Ph: 9447145947
Email : realdreamskerala@yahoo.com
Ripples Land Holidays
Ph: 9447480726
Email : ripplesland@yahoo.com
River Homes, Opp. KSRTC Bus Station
Ph: 9847048680
Email : riverhomes @gmail.com
Saj Holidays, Boat Jetty Road, Kollam
Ph: 9947023333
Email : sajholidays@gmail.com
Sandra House Boats
Ph:9447135249
Email : info@sandrahouseboats.com
See Kerala
Ph:9847081198
Email : seekerala@sify.com
Sightseer
Ph:9447971222
Email : antonykannadan@gmail.com
Silverline Cruise, Punnamada
Ph: 9895711840
Email : info@silverlinewatercruise.com
Soma House Boats, Finishing Point
Ph:9447686870
Email : mail@somahouseboats.com
St. Thomas House boat
Ph:9447258050
Starline Cruise, Finishing Point
Ph: 9847744274
S.N Travels, CCNB Road
Ph:9847068678
Teresa Holidays
Ph: 98465 66766
Email : info@teresaholidays.com
Tharavadu Holidays, Finishing point
Ph:9846144599
Email : alleppeytharavad@gmail.com
Tide n Ride
Ph: 99470 99472
Email : tidenride@yahoo.com
Travancore Holidays
Ph: 9447274728
Email : info@travancoreholidays.com
Triveni House Boats
Ph:9446074272
Ushus House Boats, Finishing point
Ph:9895605806
Email : ushushouseboat@yahoo.com
Venugeetham House Boat
Ph: 9947492900
Email : chittadytours@gmail.com
Welcome Cruise, Near KSRTC Bus Station
Ph:98460 30018
Email : info@welcomecruise.com
White Water, Finishing point
Ph:9447112255
Email : info@whitewatercruise.com
You And nature Tour
Ph:9447763540
Email : youandnature@yahoo.co.in

House boats directory Kumarakom
Vellappally House Boat
Ph: 9447156238/ 9447056240
Anand Lake Cruise
Ph: 9447150509
Arayil Lake Cruise
Ph: 9947370771
Email : arayilcruise@hotmail .com
Adithyan House Boats
Ph:9846625566
Betheleham House Boat
Ph: 0481 3291318
Email : info@bethelehemhouseboats.com
Deshavatharam
Ph:9249497111
Ganga House Boat
Ph:09947084167
Email : gangahouseboat@hotmail.com
Kailasam Floating Castle
Ph: 9947448112
Kanana Vasan Holidays
Ph:9249428138
Karippuram House Boat
Ph:9447125661
Email : karippuramhouseboat@yahoo.co.in
Kasinathan House boats
Ph:9895288278
Kovilakom Holidays
Ph:9745575656
Kumarakom Nest Holidays
Ph: 97452 30344
Lakeshore Palace
Ph:9745117922
Email : info@lakeshorepalace.in
Lekshmi Holidays
Ph:9447806244
Nandanam House Boat
Ph:9846864864
Email : info@nandanamholidays.com
Panjajanyam House Boat
Ph:9746400505
Rajadhani Holidays
Ph:9895041664
Email : rajadhanihouseboat@yahoo.co.in
River n Lake Backwater
Ph: 9846184654
Email : sojikumarakom@yahoo.com
Residency Tours
Ph:9847173452
Royal star House Boat
Ph:9847098469
Sharavanam Holidays
Ph: 9995367317
Sivaganga Holidays
Ph:9447136182
Sivam Holidays
Ph: 9895511381
St.Crispin
Ph:9495333849
St.Dominic
Ph:98951 15202
Email : jochanhouseboat@rediffmail.com
Summer Breeze, Valathattu
Ph:9447658634
Vadakkanappan Holidays
Ph:9947337478
Vimala House boat Service
Ph:9249455484
Whispering Waves
Ph: 9847116277/ 9995296769

Related posts: