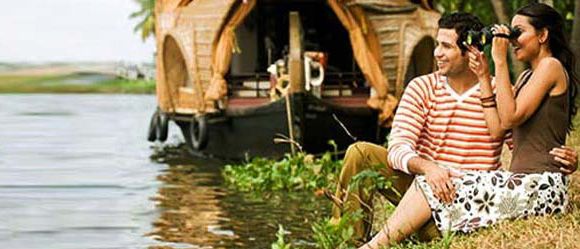 Honeymoon in Kerala is an unforgettable chapter and experience of getting closer to nature and romance.  Kerala Honeymoon will be the most important trip of your new life.  Kerala is the perfect place give your newly married life a romantic beginning and share quality time together enjoying the beauty, which is truly unmatched. Kerala tourism has identified its potential as a romantic getaway and tied up with Hotels and Resorts to promote Kerala as a romantic fantasy destination.
Nothing says romance like a Kerala Honeymoon. Love and romance flow in the air of Kerala.  Peace and privacy are the loveliest aspects of Kerala honeymoon.
Kerala with its heavenly ambiance, cool amiable climate, terrific charm and captivating attractions have made it a honeymooner's paradise.
Beautiful beaches, enchanting hill stations, stunning waterfalls, extraordinary natural beauty and  perfect weather make Kerala, a best honeymoon destination year after year.
Popular Kerala Honeymoon destinations are Munnar, Kumarakom, Alleppey backwaters (Houseboat stay ), Kovalam beach, Athirapilly waterfalls and Cochin.  Let us see what these destinations have in store for us to make your romantic moments ever so nostalgic. Make sure you do not miss these locations  by any chance.
Kerala has some leading Spa Resorts and a full diverse range of therapies and relaxations are to be found in the exclusive facilities of Kerala's leading hotels. It allows you to experience the full array of Ayurvedic relaxation.
Plan your honeymoon in Kerala and you are sure to be mesmerized by what it has in store for you. No matter how you spend your time, you are sure to have one of the most romantic destinations as your backdrop for your Kerala honeymoon.