Kalpathy Ratholsavam – Festivals of Kerala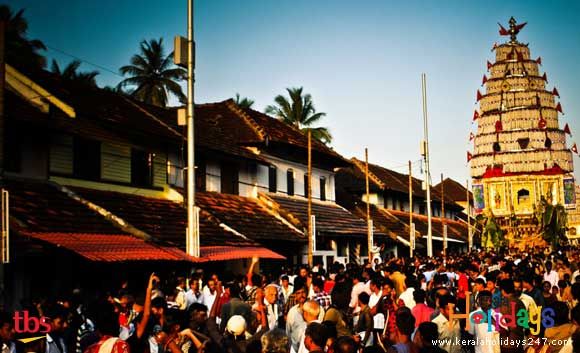 Kalpathy Ratholsavam at Sri Viswanatha Swamy Temple,  is one of the most remarkable festivals of Kerala. This Palakkad Kalpathy Chariot Festival is celebrated during the month of November, every year. Located near Palakkad on the banks of the Kalpathy River, a tributary of the Bharathapuzha River,  this temple is supposed to be over 700 years old.
Kalpathy Ratholsavam is a 10-day festival and begins with the Dwajarohanam (flag hoisting) and ends with Rathasangamom.  The festival is observed during the last week of Aippasi Month. The festival organized by Tamil Brahmins settled in and around Kalpathy Village attracts thousands of visitors.
The most important days during the  festival are the last three days. When chariots from different temples are pulled around. The main deities of this ancient temple, situated by the side of Kalpathy river, are Lord Siva and his consort Visalakshi, which is another name for Goddess Parvati. As part of the festival, deities are taken out from the temple and are placed in chariots that have been beautifully decorated.
Major attraction of the festival is the three magnificent chariots, decorated with flowers and flags, in which one can feel the presence of the lord. While the first chariot is meant jointly for the main deities, Lord Vishwanatha and Goddess Visalakshi, the second is meant for Lord Vigneswara and third chariot is for Lord Subramanya  Vedic recitals are held daily and cultural programs and classical musical concert  are also held in the evening.
The temple is about 3 kms from Palakkad and about 55 kms from Coimbatore airport. The temple is well connected by rails. Olavokot railway station is just 1 km from the temple.

Related posts: