Kairali Ayurvedic Health Resort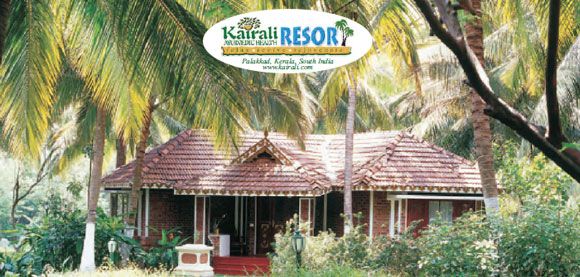 Kairali Ayurvedic Health Resort in Palakkad is a unique paradise, blending the comfort of a luxurious Kerala Tourism holiday with a total health orientation in 30 exclusive villas conforming to "Vaastu Shastra", each in a distinctive design  blending with the surroundings of herbs and trees.
One can enjoy the healing touch under the Ayurvedic health and fitness programmes. The plethora of treatments include weight loss programmes, rejuvenation and detoxification therapies to restore vigor and vitality. Unique de-stress and de-strain packages are attracting more people from different sectors.
Kairali's Ayurvedic therapies are especially known for helping to cure bone disorders. Various therapies offered by the resort are Panchakarma, Abhyangam, Pizhichil, Njavarakizhi, Dhara, Sirovasthi, Klakizhi, Nasyam, Thalapothichil, Beauty care, Eye Care Treatment, Special Herbal Oil Massage Therapy and Holistic Treatment for Rejuvenation and Detoxification,  Post Preganacy Health Programme, and special Treatment for Arthirits and Spondylitis. The Kerala resort also offers Yoga, meditation, astrology and Palmistry which symbiotically merge with the Ayurvedic therapies
The Government of Kerala has awarded the resort with Green Leaf certification.  Kairali Ayurvedic Health Resort has been Nominated in world Travel Awards 2009 under "India's Leading Resort" Category and also been recognized as One among Top 50 Wellness Destinations of the World by NATIONAL GEOGRAPHICAL TRAVELER.
Kairali Ayurvedic Health Resort
P.O. – Olassery, Kodumbu, Palakkad Dist – 678551, Kerala (INDIA)
Tel : 0091-4923-222553, 222623, 224402, 224403.
Fax : 0091-4923-222732

Related posts: