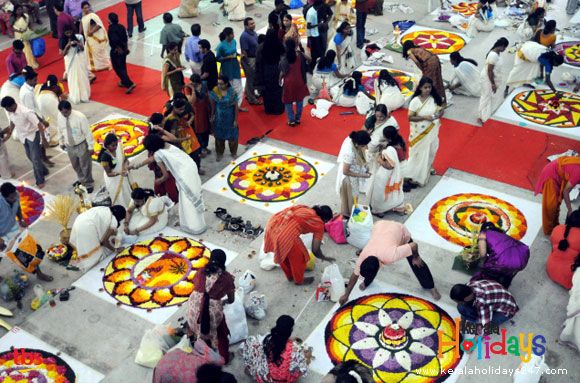 Onam is around the corner. And celebrating the festival of flowers is the fifth edition of The Hindu Metro Plus Pookkalam Contest 2011, which will be held in Kochi on September 3rd, 2011. The contest will be held between 9 a.m. and 12.30 p.m. at TDM Hall, DH Road, Ernakulam.
Fifty teams of 5 members each will take part in the competition. Each team should have five members, including the team captain, of which three should be women.
All the members should be above 15 years of age. Each institution can send a maximum of three teams. The Pookkalam should be prepared in two-and-a-half hours, which includes the time for drawing and flower arrangement. It would be a real visual treat to see as much Onam floral decorations at one place.
The first three winners will receive cash prizes of Rs. 20,000, Rs.12, 500 and Rs.7, 500 respectively. Consolation prizes of Rs.1,500 will be given to 10 teams. All the participating teams will be eligible for special gifts.
All teams will be given Rs.750 as reimbursement for the cost of flowers. Visitors can also win prizes through lucky dip.
The title sponsor is Lewis Berger Rangoli Easy Clean.
State Bank of India, Local Head Office, Thiruvananthapuram, Park Avenue, The Kerala State Women's Development Corporation Ltd, and Sprinkle Salt are the associate sponsors, Q&Q Watches (Gift Sponsor).
Only natural flowers and leaves should be used. The registered teams should report at the information counter at the venue at 8.30 a.m. for allotment of number and space in the hall.
The pokalam contest organizing by The Hindu Metro Plus will attract people from far and near. You could experience the festival vibe at this venue, although most of your attention would be on photographing the details.
For registration inquiries call 0484 2301653
E – mail : priyashiju@thehindu.co.in