Fabulous Beyond Kipling Melharmony Concert at JtPac on Aug 28th, 2011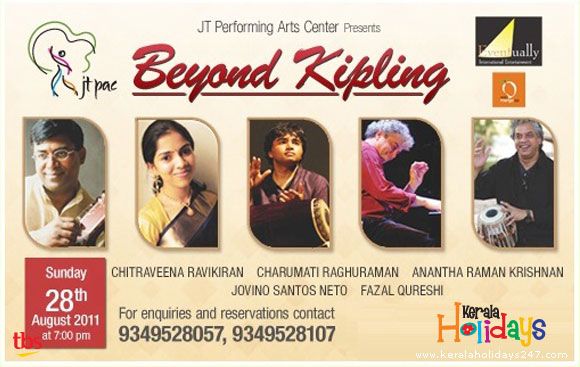 JtPac in association with Eventually International Entertainment  presents a unique Concert of World Music on 28th August, 2011 at 7 pm. It features Chitravina Ravikiran, Jovino Santos Neto, Fazal Qureshi, Charumathi Raghuraman & Anand Anantha Krishnan.
Beyond Kipling celebrates the musical synergy between an Indian composer and Brazilian pianist along with other musicians playing instruments as varied as tabla, djembe, violin, mridangam and slide vina, blended with  Carnatic, Folk, Jazz and South American samba, choro, baião, xote, forró and marcha. However, today's globalized scenario points to eclectic cultural ethos, going beyond Kipling, especially in music where with great talent on both sides, the boundaries seem to melt, heralding a new world order!
Chitravina N. Ravikiran was conferred with the prestigious 1985 'Star of India Award' by Wisdom International. He became the world's youngest performer ever, when he was 2 year old. He has trained under his father, the renowned chitravina virtuoso, Narasimhan and T Bindra.  Chitravina N. Ravikiran, performed music concert in every city of the world, participated in international festivals, concerts and lectures.
Chitravina Ravikiran will share the stage with the brilliant pianist, Jovino Santos Neto, Fazal Qureshi,  Charumathi Raghuraman and Anand Ananth Krishnan.
Ravikiran's award winning concept, Melharmony will be featured as well as, Breathless Slide – a special piece which features a non-stop-single-hand slide section, a landmark technique patented by Ravikiran.
Beyond Kipling Melharmony promises to be a fabulous concert of melody & rhythm, original compositions and improvisation, celebrating  and straddling two great music genres.
Jovino Santos Neto – from the world renowned school of Hermatto Pascoal acclaimed as a legend in his native Brazil. He is a three time Latin Grammy nominee and a master pianist, composer and arranger
Fazal Qureshi – the renowned percussionist, is the son of late table maestro, Alla Rakha.
Charumathi Raghuraman- renowned Carnatic violinist trained under T N Krishnan, one of the India's most eminent violinists.
Anand Anantha Krishnan – who started his musical journey on the mridangam, is the grandson of the legendary Palghat Raghu

Related posts: