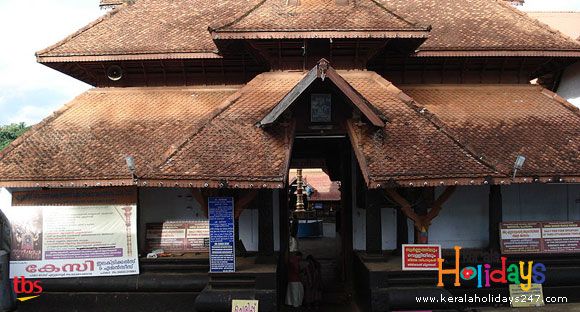 Located 12 kms north of Kottayam town, at Ettumanoor is an ancient Shiva temple, which was built in the 16th century. The Ettumanoor Temple, a specimen of the indigenous Kerala style of architecture, attracts many Hindu devotees from all over the state.
Like all famous temples in Kerala, Ettumanoor too exhibits beautiful and rich sculptures and mural paintings. Depicting scenes from Ramayana and Bhagwata Gita, the carvings enhance the beauty and spiritual realm of the temple. A fine example of traditional Kerala architecture style, the temple is dotted with several murals and carvings, the most beautiful of which is the Natraja.
The Mural Art Centre, near the temple is preserved by the Archaeological Department of the state. The ten-day annual festival, 'Ezharaponnaana Ezhunallathu' falls in February/ March. The last day 'Arathi' falls on the day of Thiruvathira. The 8 th and the 10 th day of the festival is special when large numbers of people travel to the temple to catch a glimpse of seven and a half elephants made of gold (nearly 13 Kgs) are brought out for public viewing.
Thulabharam is perhaps the most important ritual of the temple in which devotees make offerings to the deity in return for favors prayed for.
Location : 12 Kms North Of Kottayam Town

Planning a Holiday in Kerala, give a call to our Travel Consultants on 98460 89546, who are professionals in hotels and holidays Or Fill out the form below. We will help organizing a perfect trip for you.
Related posts: