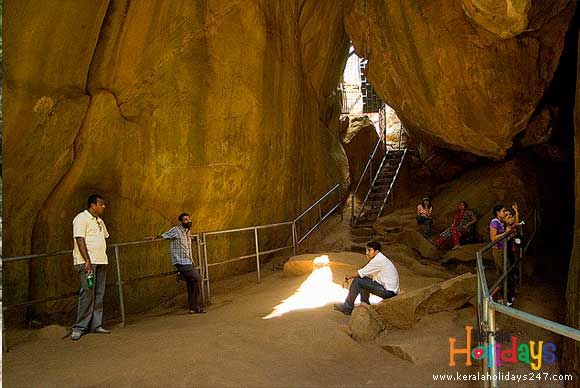 Edakkal Caves, the two natural caves situated around 1,200 feet above the sea level, are the richest pictographic gallery of pre historic stone carvings. The Edakkal Caves lie at Ambukuthi mountain ranges near Ambalavayal, about 12km from Sulthan Bathery in Wayanad district of Kerala. "Edakkal" literally means "a stone in between", and this describes formations of two natural rocks which were formed by splitting of an enormous rock. Light enters the cave through a big gap at the right-hand corner . The Edakkal cave site is on an ancient route connecting the high ranges of Mysore to the ports of Malabar.
Myth associated with the Caves
It is believed that the caves were created by arrows fired by Lava and Kusha, sons of Lord and Rama. Some believe that that Lord Rama killed Surpanakha, the sister of Ravana at the southern end of Edakkal cave
The rock wall contains some interesting  old and new stone age carvings, which represent human and animal figures and objects of human use and symbols. A number of  choppers,bows  and hand axes associated with the neolithic period were discovered from the floor of the caves.These carvings shows that highly civilized people who were existed in pre-historic times  give many glimpses about their way of life . Evidences suggest that the Edakkal caves were inhabited several times at different points in history. It inspired the archaeologists and historians study deep into  the history of Wayanad and Kerala as a whole.
The famous Edakkal cave carvings were brought to light by Fawcett in 1894, the then Malabar District Police Superintendent. This Britisher with the help of the local tribes like Mullakurumars and Panniyars, explored Edakkal caves and found many Microlithis ( tools of the Mesolithic period ) and stone age writings and carvings. The Carvings may be the work of any one of the devil worshipping castes or tribes in the neighbourhood. The writings and carvings of the Edakkal cave are unique in its and quality and quantity , the only one in its kind in all south india.
The human figure that appears frequently in the carvings is that of a man with peculiar hair dress. We can see the shapes of men and women, most of them are with tight garments and weapons. It is very clear that the carvings were made of sharp stone tools. Some Indian symbols like Swasthika fequently occur in the cave walls. The hair dresses,masks,dancers ( both men and women) and the seated figures may represent an ancient devil dance.
Edakkal caves are the protected Stone Age monument in Kerala and attracting number of tourists daily to this site. The caves can be accessed only by a 1 km trekking trial from Edakkal.Morning hours are the best time to visit the caves.Entry is permitted only up to 1700 hrs.
How to reach:
Nearest railway station: Kozhikode Railway Station about 97 km from Sultan Bathery.
Nearest airport: Karipur International Airport about 23 km from Kozhikode.

Related posts: