Cheruthuruthy Eco-Gardens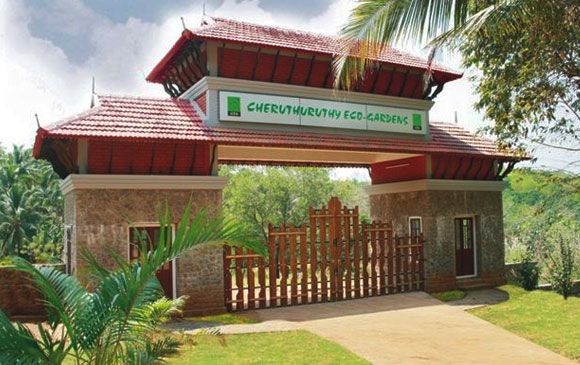 Located on a serene hilly landscape in the vicinity of the world famous learning centre of arts, Kerala Kalamandalam, Cheruthuruthy, Eco-Gardens in Thrissur is an aesthetically designed 'eco concept resort'. Spread over  an area of more than 40 acres on the bank of the River Nila, this three star Kerala resort is built on the principles of traditional architectural, modeling 'Tharavadus' and also traditional thatched houses.
Cheruthuruthy Eco-Gardens offers a well-equipped Ayurvedic and yoga centre with in-house doctors. Various packages offered by the resort includes Weight Loss Packages, Psoriasis Cure packages, Diabetic Care Packages, Stress Management Packages, Insomnia Cure Package, Body Massage, Steam Bath, Pizhichill, Body Purification package etc. Rejuvenation Packages offered are Full Body Massage, Shirodhara, Full Body Massage, Steam Bath Shirodhara, Steam Bath, Njavarakizhi, and Special Foot Massage. Cheruthuruthy also offers Detoxification packages, Obesity Care etc.
Accommodation type ranges from standard cottages to villas. The Kerala resort also has an exclusive 'state-of-the art' heritage villa with world class amenities.
The restaurants serve a wide range of traditional Indian and International cuisine. The resort also has an exotic floating restaurant on the artificial lake, a performance theater where traditional art forms are performed, mini convention centre and floodlit badminton court. Other facilities include a swimming pool, a jogging track, refreshment centres, souvenir centre, mini bar in all cottages, wheel chair accessibility, etc.
Pokkalath Resorts Pvt. Ltd.
Cheruthuruthy P.O, Thrissur District, Kerala, India Pin:679531
Ph:+91-04884-264377, 264366, 262021
Email:mail[at]cheruthuruthy-ecogardens.in

Related posts: