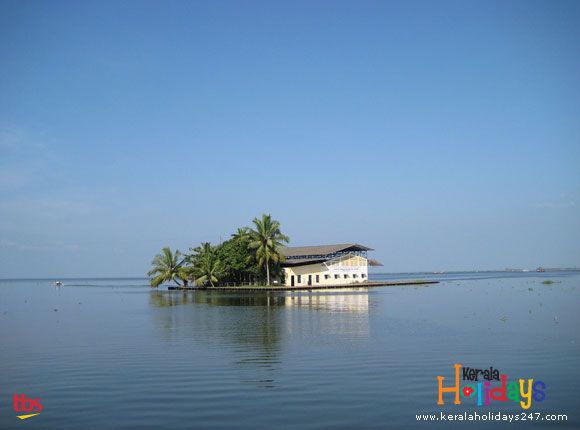 Backwater at Kumarakom  - Pristinely beautiful Backwater at Kumarakom is a charming peninsula jutting into the picturesque Vembanad Lake dotted with innumerable traditional country rafts, boats and canoes. The fresh water of the lake flows into the mainland making a labyrinth of lagoons, canals and waterways. An enchanting tourism destination, Kumarakom backwaters offer its visitors many other leisure options like Boating and fishing facilities. Kumarakom Holiday packages on the houseboats, traditional Kettuvalloms, are an out-of-this-world experience. Backwater is the most beautiful part and attraction and the tourist season is from September to March.
Take a boat trip on the meandering backwaters of Kumarakom and watch out for the varied life forms dwelling in every nook and corner. The backwaters are a safe haven for rare migratory birds that come here every year. There is a bird sanctuary also near the backwaters that spreads over an area of 14 acres. The backwaters are a treat for an avid bird watcher as there are a number of birds that add life to the backwaters. One can find egrets, herons, cuckoos, waterfowls, ducks, etc and many more birds over here. The Siberian stork is a regular visitor and come to the backwaters in huge flocks, fascinating and enchanting all visitors.
Kumarakom backwaters are best enjoyed when explored in a houseboat. These houseboats are equipped with all modern facilities that include on boards cooked meal, sun deck, carpeted floors, bedrooms with attached bath and everything else that you can think of. You can also avail the boating and fishing facilities that are provided at the Kumarakom backwaters. An overnight cruise on the calm and quiet backwaters, painted silver by the moon is a divine experience.
Related posts: