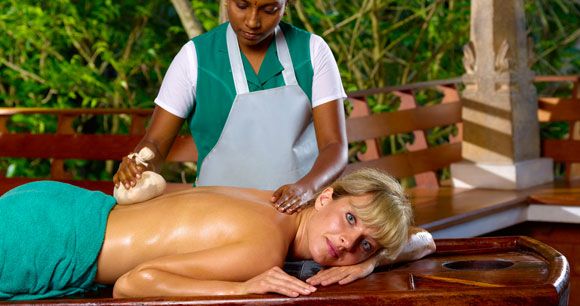 W e offer  Ayurveda Treatment Packages as a part of  Kerala Tourism to refresh your mind and  reinvigorate your body. Healthy climate, healing waters, natural therapies and stunning scenery make it the perfect wellness destination and you can choose any Ayurveda package for your Kerala Travel.

What is Ayurveda?
Kerala is home to ancient healing system in existence called Ayurveda, which is well known across the globe. It is believed that Ayurveda medical system has evolved in Kerala.  Kerala can be aptly called as the hub of Ayurveda.  Ayurveda or "The Science of Life" has been a part of India's enduring tradition and philosophy.  This is a time tested 5000 year old science which highlights on ideal lifestyle in order to maintain radiant physical and mental health based on herbal preparations, herbal diets, yoga, medicated massages, steam bath and purification. Kerala has created its niche as a health and wellness destination by making Ayurveda as part of its health and wellness programme.
Ayurveda is the earliest school of medicine known to mankind. It follows that prevention of disease, promotion of health and longevity are given the requisite importance in addition to the curative aspect.  Kerala Ayurveda experience is rejuvenating as well as refreshing. Ayurveda balances the physical, mental and spiritual elements which are indispensable for good health through life style advices, internal medicine and external treatments.
Ayurveda Treatment Packages
Ayurvedic treatment is one of the major attractions for many tourists who come here. This treatment will rejuvenate you to the hilt and offers an overwhelming experience.  Kerala Ayurveda treatment   is a complex process and very often requires a skilled Ayurvedic practitioner to determine a course of treatment. In Ayurveda there are  steps in treating any diseases and getting back to health– identifying the disease, cleansing the body, proper daily life style recommendation and food chart based on  body prakruthi, treating the  root cause. The theory behind Ayurveda is – Ayurveda fights the disease through the patient.
Ayurvedic medicines are usually prepared as a combination of several herbs and other natural ingredients of high medicinal values. Greater part of Ayurvedic medicament's are based on indigenous herbals. "For every disease on earth there is a corresponding cure in nature."  Kerala remains the world's largest repository of alternative and complementary medicine that is Ayurveda which successfully treats more people everyday than 'modern' medicine can even dream of. We have tied up with different Ayurveda Hospitals and carry out well organized Ayurveda Treatment Packages throughout Kerala. We will arrange for your treatment and will also take up all the responsibilities for your travel. Your accommodation facilities, food as well as local sightseeing of the Kerala backwaters and other attractions will also be taken care of by us.
Ayurveda Wellness Packages
Traditional Ayurveda wellness Programme
We provide Ayurveda Wellness packages specifically focuses on the wellness of the individual . It's ideal for those who wish to combine their Kerala travel with an exotic health care program   like Ayurveda and yoga. Ayurveda Wellness is an all-round feeling of well-being.  It involves fun,  physical and mental relaxation using a wide variety of therapies, massages and treatment methods. The treatments will be performed at a very authentic level to cater to wellness seekers coming to Kerala from all over the world. The schedule for treatment has been deliberately designed to give abundance of free time, creating an unhurried atmosphere of serenity, thereby draining the vitiated stresses . Focusing on improving people's health, wellness and well-being programmes are offered such as  anti-aging or rejuvenation, relaxation, body purification combined with stress management. Ayurvedic  therapies utilises medicated oils and herbal mixtures to alleviate stress.We have associated with many Ayurveda hospitals for Traditional Ayurveda wellness package.
Ayurveda  Resorts  & Spa – Oriented Wellness Programme
We have tied up with many Ayurveda  resorts  & spa set in most scenic area ,for luxuriating your  Ayurveda wellness package. The healing powers of nature are especially gentle – and Kerala has them  in abundance. It is, admittedly, difficult to choose when there is such a wide variety on offer, but it's easy to just try something out. Try a few treatments and decide afterward.  Choose whatever really appeals to you – you'll find it here in Kerala. You pick for your wellness holiday, Kerala all has its special charms and offer a variety of leisure activities in glorious countryside. You can be professionally pampered from head to toe in any of Kerala's  delightful oases of wellness.
You can take part in Ayurveda herbal beauty care packages in Kerala for a younger you .This modern style of health and beauty care is now well established in Kerala. The fresh, pure air alone will do wonders for your complexion.
You will be under the supervision of trained specialists and doctors during your stay.