Ambalapuzha Sree Krishna Temple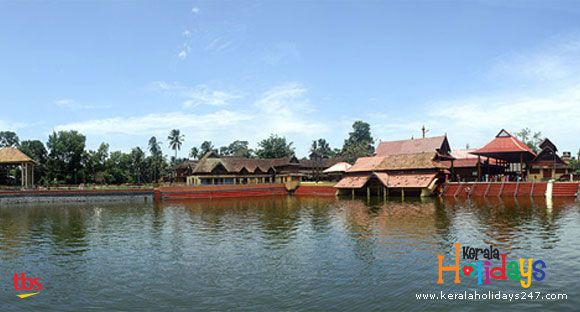 Ambalapuzha Sree Krishna Temple is 14 km south of Alappuzha town lies on the Kollam-Alappuzha Highway. The 16th century-built temple is very famous in South Kerala and its prasadam Palpayasam, more commonly known as Ambalapuzha Palpayasam is mouth-watering and very famous throughout Kerala.
The temple was built by Pooradam Thirunal-Devanarayanan Thampuran, the ruler of the Chempakaserry Dynasty which reigned over a part of the Travancore State, including Kuttanadu during 15th – 17th AD. An ardent devotee of Sree Krishna, he brought the idol of Lord Krishna from the Karinkulam temple in Kurichi near Kottayam and installed it in the Amabalapuzha Sree Krishna Swamy Temple.
The temple built in the traditional architectural style display paintings of the Dasavatharam (the ten incarnations of Lord Vishnu) on the inner walls of the Chuttambalam. The temple is also famous for the 'Pallipana' performed by Velans once every twelve years. It was in this temple that the 16th century poet Kunjan Nambiar staged the first 'Ottan Thullal', performance with high social content.
The main festivals celebrated in this temple are the Arattu Utsavam held in March-April and the Champakkulam Moolam Water Festival held in June-July. The arattu festival, commences with the flag hoisting ceremony on the Atham day in Meenam (March-April). The main day of the festival is held on the Thiruvonam day of the month Meenam. 'Velakali', a traditional martial art form of Kerala is an important feature of this festival.
Amabalapuzha Temple Festival, popularly known as the Champakkulam Moolam Water Festival is celebrated in remembrance of the installation of the famous idol of Lord Krishna in the temple. One of the most popular boat races of Kerala, the highlights of the water festival are a ceremonial procession on the water, spectacular water floats, decorated boats, and of course, the race of the majestic.

Planning a Holiday in Kerala, give a call to our Travel Consultants on 98460 89546, who are professionals in hotels and holidays Or Fill out the form below. We will help organizing a perfect trip for you.
Related posts: